Read Time:
10 Minute, 53 Second
Introduction
Printed Materials- As individuals, organizations, and businesses strive to engage and inform their audiences, traditional methods of presenting information often fall short in capturing attention and fostering understanding. This is where infographics come to the forefront, offering a powerful solution to simplify complex information and enhance communication.
Utilizing infographics in printed materials has emerged as a dynamic approach to convey information in a visually compelling and easily digestible manner. By combining data, graphics, and concise text, infographics have the ability to transform intricate concepts into visually appealing representations, making it easier for audiences to grasp and retain information. Whether it's explaining intricate processes, presenting statistical data, or outlining intricate strategies, infographics possess the unique ability to simplify complex ideas and deliver impactful messages.
The rising popularity of infographics can be attributed to the human brain's inherent affinity for visual content. Studies have shown that our brains process images faster and retain visual information more effectively than text alone. Infographics leverage this cognitive preference by utilizing colors, shapes, and visual hierarchies to enhance comprehension and engagement. By incorporating infographics into printed materials, organizations can effectively capture attention, improve information retention, and create a memorable impact on their target audience.
What is simplifying the complex infographic?
An infographic is a visual representation of information, data or knowledge and is created to make the complex easier to understand. An infographic is very effective because it's a visual element.
Simplifying the complex infographic refers to the process of condensing intricate and detailed information into a visually appealing and easy-to-understand graphic representation. It involves distilling complex concepts, data sets, or processes into concise and meaningful visual elements that communicate the key messages effectively. The goal is to present information in a simplified manner, removing unnecessary details and jargon while retaining the essential components. By utilizing visual aids such as icons, charts, graphs, and illustrations, simplifying the complex infographic breaks down complex information into smaller, more manageable parts.
One crucial aspect of simplifying complex infographics is the careful selection and organization of content. It requires a deep understanding of the subject matter to identify the most important and relevant information that needs to be conveyed. By prioritizing key data points, insights, or steps, the infographic can focus on delivering a clear and concise message to the audience. The use of hierarchy and visual cues such as color, size, and placement of elements further aids in guiding the viewer's attention and understanding.
Another vital consideration in simplifying complex infographics is the design and layout. A cluttered or overly complicated design can confuse and overwhelm the audience, defeating the purpose of simplification. It is crucial to strike a balance between aesthetics and functionality, ensuring that the visual elements and text are organized in a logical and intuitive manner. Consistency in style, font usage, and color palette also contributes to the overall coherence and clarity of the infographic.
What type of infographic allows you to simplify and clarify each step?
Process infographics will allow you to simplify and clarify each step. Most process infographics follow a straightforward top-to-bottom or left-to-right flow.
One type of infographic that allows for simplifying and clarifying each step is a process infographic. Process infographics are specifically designed to visually represent a sequence of steps or actions required to complete a task or achieve a goal. These infographics break down complex processes into a series of clear and concise steps, making them easy to understand and follow.
The key feature of a process infographic is its linear structure, where each step is presented in a logical order, usually from left to right or from top to bottom. This arrangement ensures that the audience can easily follow the flow of information and grasp the progression of the process. Each step is accompanied by concise and straightforward text descriptions or labels, further aiding comprehension.
Visual elements such as icons, symbols, or illustrations are often employed in process infographics to enhance clarity and engage the viewer. These visual cues can represent the actions or concepts associated with each step, enabling quick recognition and understanding. Additionally, the use of color coding and consistent design elements throughout the infographic helps establish visual hierarchy and reinforce the organization of the steps.
How does the use of an infographic help you to better understand the data presented?
Infographics combine powerful storytelling with strong data presentation, making it easier to convey information effectively, creatively, and quickly. They are visually appealing, making it easier for the audience to understand and recall the message.
The use of an infographic can significantly enhance the understanding of data presented by leveraging visual elements and effective design principles. Infographics transform complex and abstract information into a visually appealing and easily digestible format, making it easier for the audience to comprehend and retain key insights.
One way infographics aid understanding is by organizing data into meaningful and logical patterns. They often employ visual hierarchies, grouping related information together and presenting it in a structured manner. This organization helps viewers identify relationships, trends, and patterns within the data, allowing for a clearer understanding of the information at hand.
Visual representations in infographics, such as charts, graphs, and diagrams, play a crucial role in simplifying complex data. These visuals provide a visual context and allow for quick comparisons and analyses. For example, a bar chart can clearly depict the relative sizes or quantities of different data points, while a line graph can illustrate trends and changes over time. By presenting data visually, infographics bypass the need for extensive textual explanations, making it easier for the audience to grasp the main points.
Infographics also employ visual cues and storytelling techniques to guide the viewer through the data. Icons, symbols, and illustrations are used to represent concepts, making them more memorable and engaging. The use of color, typography, and layout further aids in conveying information and highlighting important data points. By incorporating these design elements, infographics create a cohesive narrative that guides the audience's attention and facilitates comprehension.
Should an infographic be complex?
The key thing to remember when designing infographics is that simplicity is key. Unless you know how to design complex data visualizations, our best advice is to keep it simple. You don't want to make your reader work harder than they have to in order to understand your work.
The complexity of an infographic depends on its purpose, target audience, and the information it aims to convey. While infographics are commonly used to simplify complex data and make it more accessible, the level of complexity should be carefully considered. In general, infographics should strike a balance between simplicity and comprehensiveness to effectively communicate their message. An overly complex infographic runs the risk of overwhelming the audience, hindering their understanding, and defeating the purpose of visual communication. Infographics should be visually appealing and engaging, but not at the expense of clarity and ease of comprehension. They should prioritize conveying the key information succinctly and efficiently, using visual elements such as charts, graphs, and icons to enhance understanding.
However, it is worth noting that certain topics inherently require a higher level of complexity in their presentation. Technical subjects, scientific data, or intricate processes may necessitate more detailed and intricate infographics. In such cases, it becomes crucial to strike a balance between complexity and accessibility by organizing the information in a logical and structured manner. The use of hierarchies, color coding, and clear labeling can help guide the audience through the infographic and aid comprehension.
How do you simplify complex information?
Compile relevant information. First, gather up all the information you need to share, leaving out anything that isn't essential
Break it down. Once you've compiled all of your information, distill it down to its smallest parts
Use formatting to your advantage
Simplifying complex information involves breaking it down into smaller, more manageable components and presenting it in a clear and concise manner. One effective approach is to identify the key points or main ideas and focus on communicating them effectively. This can be done by using plain language and avoiding jargon or technical terms that may confuse the audience. Visual aids such as charts, graphs, and diagrams can also be helpful in presenting complex data or relationships in a more easily understandable format.
Another strategy for simplification is to provide real-life examples or analogies that relate to the subject matter. By drawing parallels to familiar concepts, individuals can grasp complex information more readily. Additionally, organizing the information in a logical and structured manner, such as using headings, subheadings, and bullet points, helps to create a clear flow of ideas.
When simplifying complex information, it is crucial to consider the target audience. Different people have varying levels of knowledge and expertise on a given subject, so adapting the language and level of detail to match their understanding is essential. Breaking down complex concepts into smaller, more digestible pieces can make it easier for individuals to comprehend and retain the information.
What are the benefits of using infographics in printed materials?
Infographics offer several benefits when used in printed materials. Firstly, they provide a visually engaging way to present complex information. By combining images, charts, and graphs, infographics can transform data-heavy content into a visually appealing format that captures the attention of readers. This visual appeal helps to convey information more efficiently and effectively, enhancing comprehension and retention.
Secondly, infographics simplify complex information by presenting it in a concise and organized manner. They allow for the distillation of key points and statistics into easily digestible visual elements, such as icons, illustrations, and diagrams. This simplification makes it easier for readers to grasp and understand the information being presented.
By using a combination of visuals and text, infographics create a narrative flow that guides readers through the information in a logical and engaging manner. They help to establish a connection between different data points and enable readers to see the bigger picture or understand relationships and trends more easily.
What role do infographics play in enhancing communication effectiveness?
Infographics play a crucial role in enhancing communication effectiveness by presenting complex information in a visually appealing and easily understandable manner. These visual representations combine text, images, and graphics to convey data, statistics, or concepts in a concise and engaging format.
One key advantage of infographics is their ability to simplify and distill complex information. By organizing data into clear and logical visual patterns, infographics allow viewers to grasp concepts more quickly and easily. The visual elements, such as charts, graphs, and icons, help to break down complex ideas and make them more accessible to a wide audience. Additionally, the use of color, typography, and layout in infographics enhances the overall aesthetic appeal, capturing viewers' attention and keeping them engaged.
Their concise and visually appealing nature makes them easily shareable across various platforms, such as social media networks, websites, and presentations. This ability to quickly disseminate information to a broader audience greatly enhances the reach and impact of the communicated message.
By combining visual and textual elements, infographics engage both the visual and verbal processing systems of the brain, resulting in better comprehension and recall of the information presented.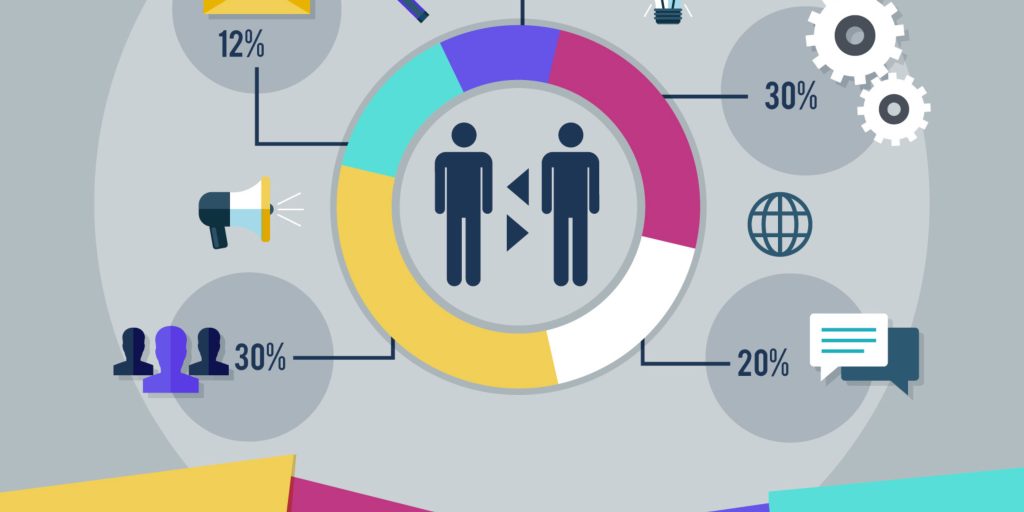 How can infographics engage audiences in printed materials?
Infographics have the ability to engage audiences in printed materials by leveraging their visual appeal and ability to present information in a concise and captivating manner. When incorporated into printed materials, infographics can effectively grab the attention of readers and convey complex data or concepts in a format that is easy to understand and visually appealing.
One way infographics engage audiences in printed materials is through their eye-catching design. By combining attractive colors, visually appealing icons, and well-structured layouts, infographics stand out and capture readers' attention. When flipping through printed materials such as magazines, brochures, or reports, the presence of infographics creates a visual break from lengthy paragraphs of text, drawing readers' eyes to the information presented in the graphic.
Infographics condense complex information into bite-sized, visually appealing snippets, allowing readers to quickly grasp the main points or trends without having to read lengthy paragraphs. This encourages readers to engage with the content and facilitates easier comprehension and retention of the information presented.
Conclusion:
Infographics offer a visually appealing and easily digestible format that captures attention and engages readers. By incorporating graphics, charts, and diagrams, complex data can be transformed into a compelling narrative that is accessible to a wider audience.
Infographics enable organizations and individuals to present information in a concise and organized manner, allowing key messages to be communicated effectively. They provide a visual representation that enhances comprehension and retention, making it easier for readers to grasp intricate concepts and relationships.
In an era where attention spans are shrinking and information overload is prevalent, infographics serve as a valuable solution. They enable the simplification of complex information, making it more accessible, memorable, and impactful. Incorporating infographics in printed materials is an effective way to captivate audiences, convey messages with clarity, and ultimately achieve communication success.